Many of our pupils have roles and responsibilities across the academy. They make a highly positive contribution to the life of the school and actively support the wellbeing of other pupils and members of our local community.

Student's opinions are very important and should play a key role in shaping the Academy. In order to achieve this, we have formed the School Parliament; key roles and groups within the Academy which allow pupils to have their say and to voice their opinions as well as supporting other students. All students involved in student voice have the opportunity to develop key skills of leadership, responsibility, team work, organisation, the opportunity to raise self esteem and build self confidence.


Each class are represented on the School Parliament by two children and the children represent different departments within the parliament depending upon their interests.

We have departments for:


Equality and Inclusion
Education
Energy
Enterprise
Health
Sport
School Parliament 2020/2021
28/9/2020: Election Day was a great success with all the children voting democratically for who they wanted to represent our academy. We are very proud of all the children who put themselves forward and shared their manifestos with their class last week.
Miss Park will announce the representatives for the six departments on 30/9/2020.
30/9/2020: We are proud to introduce our new School Parliament members for this academic year  Well done to everybody who shared their manifestos and congratulations to our new representatives!
Why did you want to be a member of School Parliament?
Katie: "I'm kind and good at listening. I want to help make things even better!"
Elwood: "I want to help make school even better and a place for everyone to be happy!"
James: "I want people to think about British Values and our rules."
Florence: "I want to help make our school more eco-friendly."
Jackson: "School Parliament will challenge me and allow me to do something different, braver and help people."
Matthew: "I want to be a member of School Parliament because I'm helpful and I want to make a difference."
Seb: "I want to get answers for people and help make changes."
Ivy: "I want to help make people feel included and share ideas."
Lily: "I want to help make school even better and to help fundraise."
Erin: "I want to try and help make a difference."
Eva: "I want to have a positive impact and make changes throughout school."
Grace: "I want to help make the school a happier place."
7/10/2020: School Parliament had their first meeting with Miss Park and decided the representatives for each department and the Prime Minister and Deputy Prime Minister.
Prime Minister: Eva
Deputy Prime Minister: Erin
Department for Health: Erin and Jackson
Department for Sport: Eva and Seb
Department for Energy: Florence and Matthew
Department for Education: Ivy and Katie
Department for Equality and Inclusion: Grace and Elwood
Department for Enterprise: Lily and James
1/10/2020:  School Parliament work in partnership with St Catherine's food bank in Wakefield every year. Dean came and collected all our amazing food donations and thanked us for our generosity that will make such a difference to so many people
7/10/2020: School Parliament launched our Pumpkin Path Carve Off Contest. They will judge the entries and announce three winners on 23/10. They can't wait to see everybody's spooktacular designs! 
7/10/2020: Florence and Matthew, who are School Parliament members from the Department for Energy, have launched our environmental campaign to recycle batteries.
Why is recycling batteries so important?
When batteries begin to rot in landfill sites, the chemicals may leak into the ground, which can cause soil and water pollution. When chemicals contaminate soil and water, animals, humans and the environment can be harmed.
Our School Parliament have requested that  any old/unwanted batteries are sent into school in a sealed bag. They will be quarantined for 72 hours and then taken by School Parliament members to our battery collection point. 
19/10/2020: Our School Parliament have teamed up with Morrisons, who are running a poppy appeal competition for Remembrance Day. Entries are to be brought into the academy by 3/11 to be in with a chance of winning! School Parliament will choose and announce the winners. All entries will be displayed at Morrisons, Dewsbury Road. 

20/10/2020: In today's assembly, our School Parliament shared the next project. After discussing the importance of being kind and spreading happiness, they would like us to take part in the Samaritan's Purse shoe box appeal. Boxes to be brought in by 12/11. Please see the letter emailed for more details.
23/10/2020: School Parliament had the tough decision of judging the pumpkin competition!
What a fa-boo-lous turn out. Thank you to everybody who entered their fang-tastic designs.
Congratulations to our three winners: Maya (Nursery), Winnie (RM) and Lily (5B).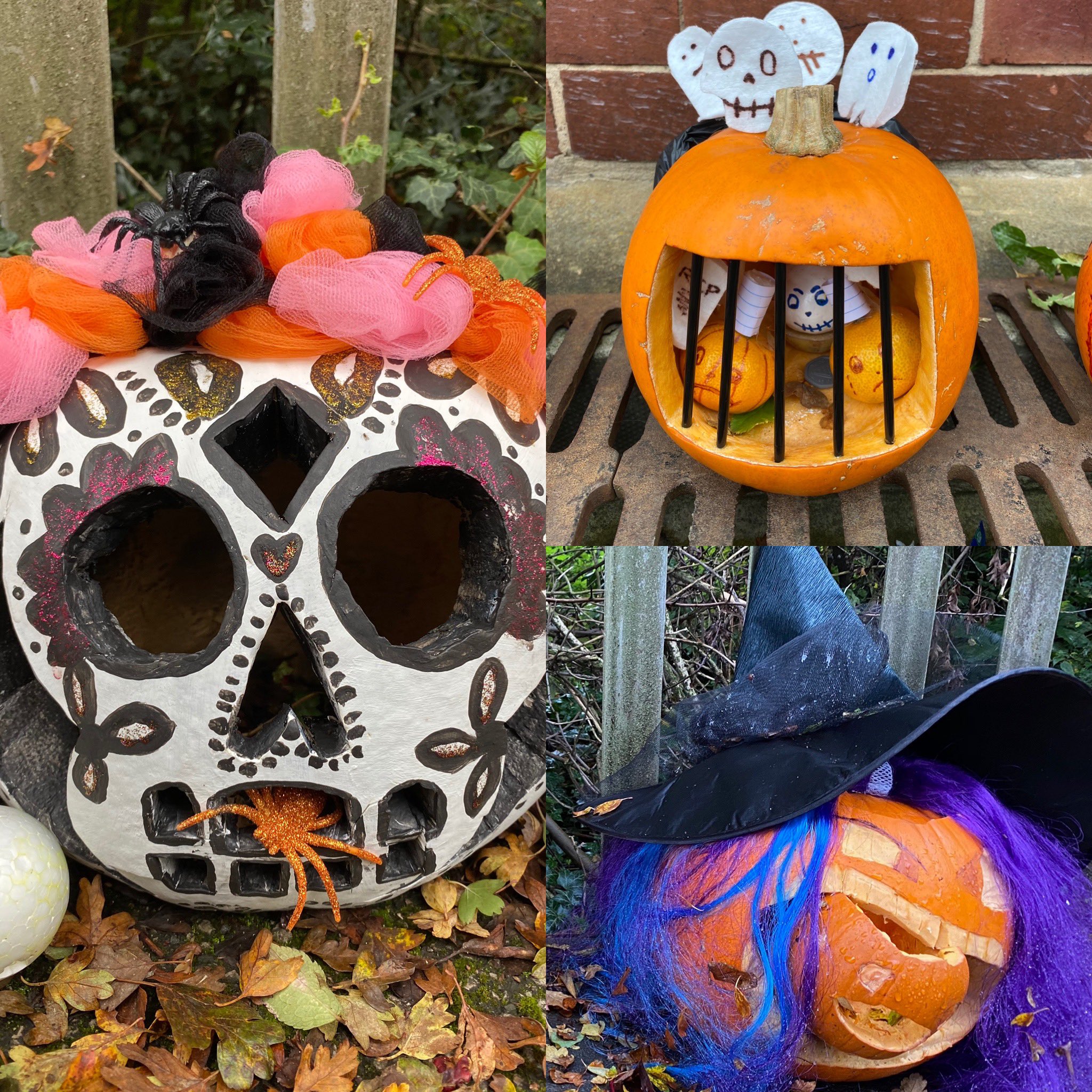 Mental Health and Wellbeing Champions 2020/2021
22/10/2020: We are proud to have our new Mental Health and Wellbeing Champions! Thank you to everybody who applied & well done to our new team! We can't wait to see how you work together to help promote mental health and well being of our pupils and staff across the academy.


Reading Ambassadors 2020/2021
14/10/2020: We are proud to have our new Reading Ambassadors! Here some of them are with their current book  Thank you to everybody who applied & well done to our new team! We can't wait to see how you work together to help promote a love for reading across the academy.


School Parliament 2019/2020

"I will always try my best to set a good example and make sure our School Parliament makes positive changes to our academy."                                                                                                  - Y5 Member of School Parliament
MP Visit

Our School Parliament had a visit from local MP Andrea Jenkyns (6/3/2020). The children enjoyed learning all about her role and asked lots of insightful questions!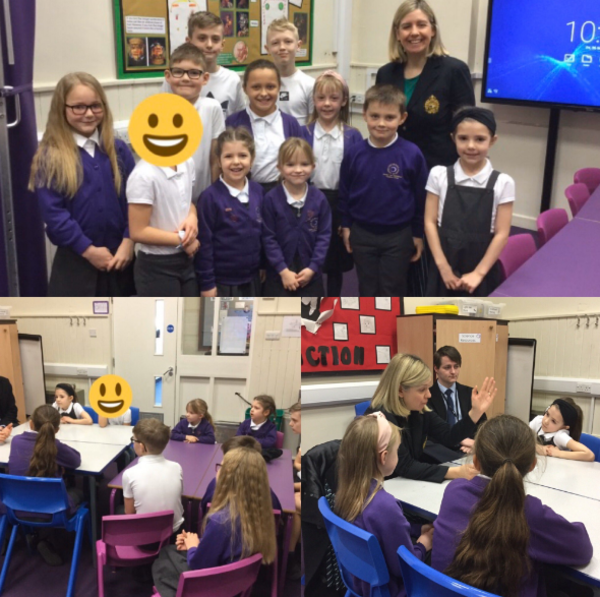 South Kirkby Recycling Centre Visit

Finlay and Maddie, who are from our Department of Energy Saving, went to an exciting School Parliament visit today! At South Kirkby Recycling Centre, they learnt all about waste management and what we can do as an academy to support this.
Book Giving Day
We had a special delivery for the children, staff & visitors on the Children's ward this week! Books for International Book Giving Day. Our children chose to donate to Pinderfields Hospital because a book is a gift you can open again and again.


Anti-bullying
Our School Parliament have presented to all classes from Nursery – Y6 about anti-bullying and what we do at OPA Lofthouse Gate to prevent prevent and put a stop to bullying!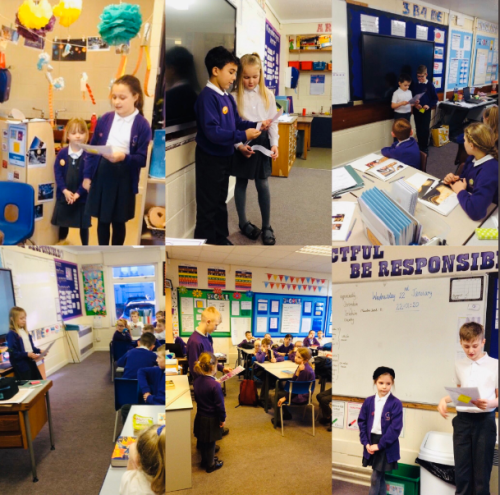 Sustainability and the Environment
Martha, who is one of our Y5 members of School Parliament, represented OPA Lofthouse Gate at a meeting chaired by Lily from OPA Littleworth Grange with our CEO, Martyn Oliver. It was a fantastic opportunity to discuss sustainability across both our primary and secondary academies – watch this space for the outcome of this collaborative project!


As part of our OPA Diploma this half term, 'protect and respect the environment', our School Parliament completed a litter pick with Joe and Andrew from Wakefield Together.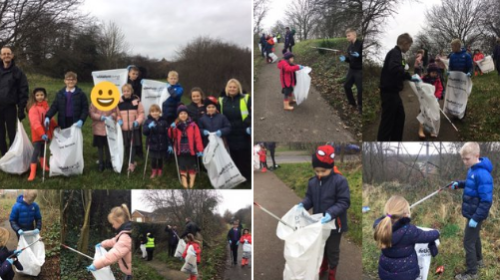 Education Summit
Our two members from the Department of Education were set two challenges by Mr Wilson, who is our Chief Executive Principal, to gain feedback from across the academy on our 'Time to…' sessions.
Overall the children's responses were very positive. They discussed with our School Parliament members how the weekly sessions help promote positive mental health and wellbeing and it gives them time away from the normal curriculum to reflect, explore and connect. These sessions include yoga, relaxation techniques, discussions, mindfulness and many more.


All our School Parliament members shared this in an assembly to the whole academy and celebrated their work so far.


"I'm a worrier. 'Time to…' has helped me to be more positive and have positive thoughts. It helps us join together as a class and be a team."
Y5 child


Meeting with the PTFA
In October, our School Parliament members met with Mrs Clamp, who is a member of our PTFA, to share how our children across each year group would like to spend the money we have raised together. This was a great opportunity for all children to share their pupil voice and decide together on how to enhance their learning experiences.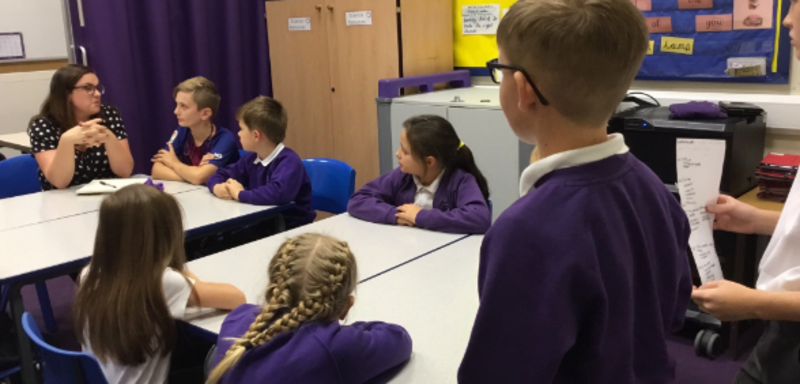 Harvest Festival – Food Bank Donation
Following our Harvest Festival hosted by Father Bish, our School Parliament members helped to organise all our donations for St Catherine's food bank to take away and be shared with our local community.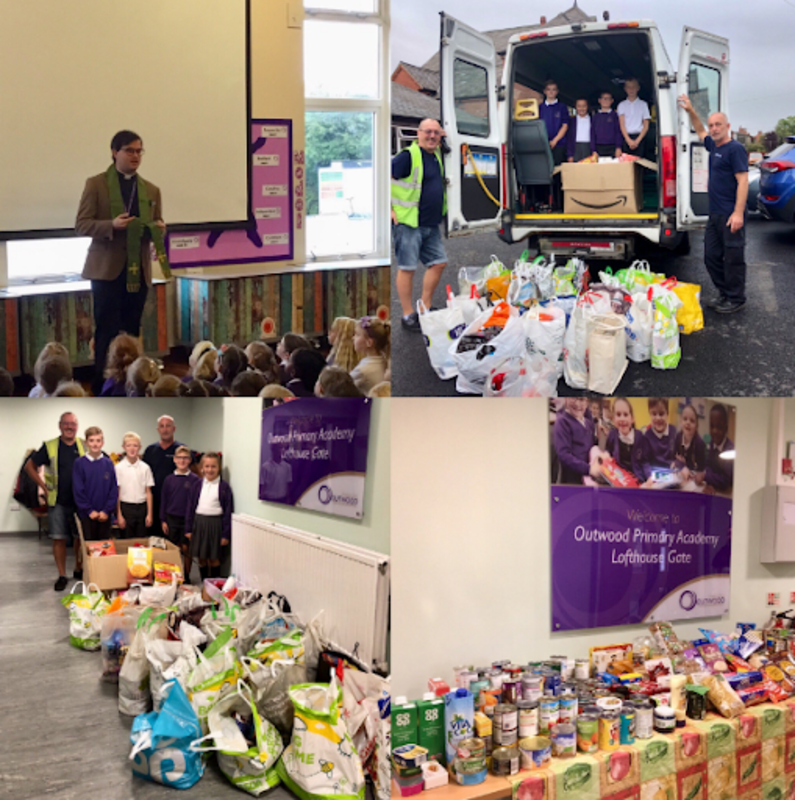 School Parliament Election Day
In September, Election Day was a great success with all the children voting democratically for who they wanted to represent our academy. Representatives for the six departments have been chosen, along with our Prime Minister and Deputy Prime Minister.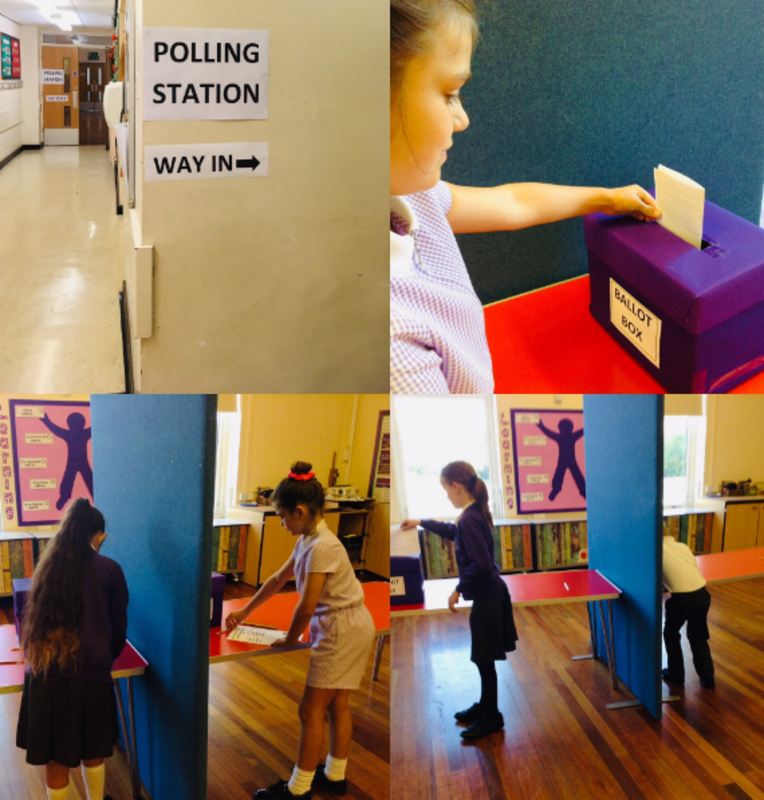 Mental Health and Wellbeing Champions
Our Mental Health and Wellbeing Champions are kind, helpful and supportive members from Year 3-6 who support children during social times in their bright t-shirts! Our MHWB Champions regularly take part in assemblies to share books promoting positive mental health; they supported the Mental Health Charity, Young Minds, by taking part in "Hello Yellow" Day and they also recognise acts of kindness around the academy by rewarding pupils with bucket filler tokens and continuously helping to spread the happiness across the academy.
Lucy's Blue Day
One of the books shared in assembly by our Mental Health and Wellbeing Champions was, 'Lucy's Blue Day'. They discussed ways to help manage our emotions, whatever they may be. The team are so proud of their role and are always here to support and listen to their peers.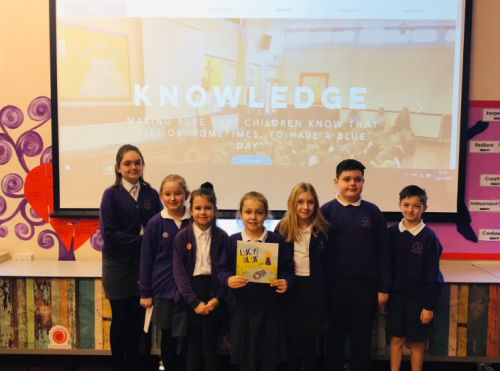 NSPCC
As part of our mission to help our children to be happy, healthy and safe, Kate from the NSPCC delivered two assemblies for EYFS/KS1 and KS2 and workshops to Y5 and Y6 . The 'Speak Out and Stay Safe' programme supports our children to have the knowledge and understanding of how to speak out to help keep themselves & others safe.
To show our support for the NSPCC and the valuable work they do, we completed the, 'Monday Minute Madness' sponsored event. Well done to all the children and staff for taking part!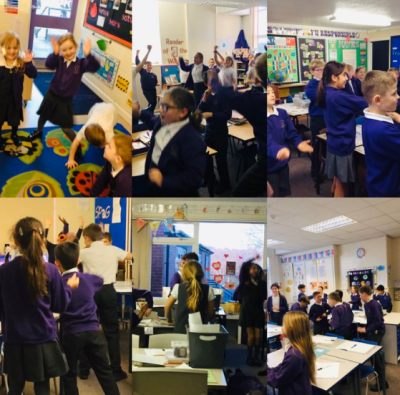 The Samaritans
In preparation for Children's Mental Health Week, members of our School Parliament and our Mental Health and Wellbeing Champions worked with Ann and Janet. They have learnt and developed techniques they can use to support positive mental health and the importance of listening to their peers.
Digital Leaders
Our Digital Leaders support the use and further the development of ICT across the academy. We are very proud of our team for delivering a presentation to classes on being safe online for Anti-Bullying Week. They gave great advice on what bullying online could look like and how to help put a stop to it.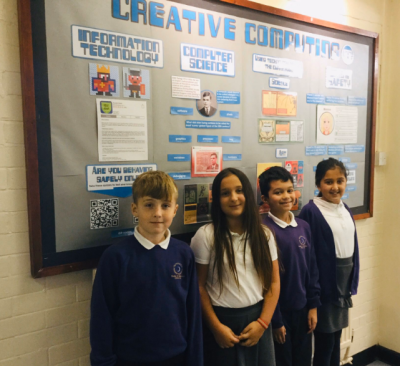 Safer Internet Day 2020
As part of Safer Internet Day 2020, our Digital Leaders hosted a whole school assembly on how to stay safe online. They met with Mr Wood, who is a member of our academy council and works in IT, to work together to create relevant and up to date content for both KS1 and KS2.
Reading Ambassadors
Our Reading Ambassadors work enthusiastically alongside our English Coordinators to help promote a love of reading across our academy. They have opportunities to share book recommendations, support activities for World Book Day and National Poetry Day, run competitions, organise reading sessions with different year groups, keep our library and bookshelves tidy and well stocked and running the daily book donation point for all year groups. They have met with two local authors, E. R. Reilly and Conrad Burdekin, who is now our official Patron of Reading. They also write their very own termly reading newsletter.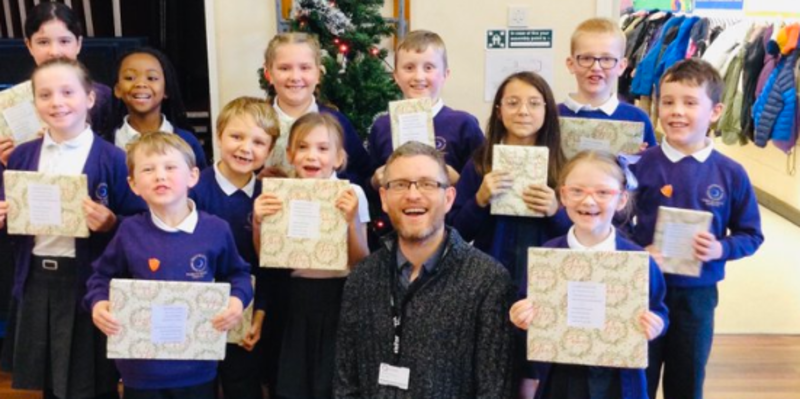 Peer Mediators
As a restorative school we take a restorative approach to resolving conflict and preventing harm. Our Peer Mediators support the academy community by working with their peers to help prevent incidents from happening and resolving them if they do. Using this approach, enables those who have been harmed to convey the impact of the harm to those responsible, and for those responsible to acknowledge this impact and take steps to put it right.
Our Peer Mediators have delivered whole school assemblies and sessions to classes to model how to use restorative practice successfully and share their successes!
Here are two of our peer mediators out at lunch time supporting their academy community. They work together to help resolve problems using restorative practice.
"We like to help and make sure people stay friends and find solutions to their problems"          - - Anya and Jen Y4 Peer Mediators 
Lunchtime Monitors
Here are some of our Year 5 Lunchtime Monitors in action! They do a fantastic job in assisting with the smooth running of our lunchtime routines and act as great role models to the rest of the academy. They set high standards in the corridors, help move children in and out of the academy, clean tables and support the kitchen team.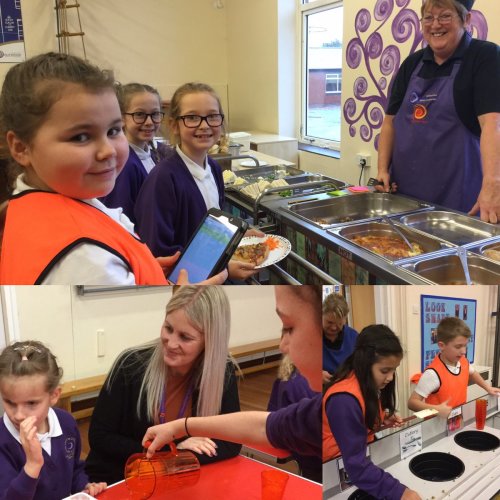 FitBods
In Year 6, the children take on an extra responsibility to work as a FitBod during lunchtimes. FitBods help to run activities such as football, basketball, cricket, hoops and wobble boards and support other children to enjoy an active lunchtime!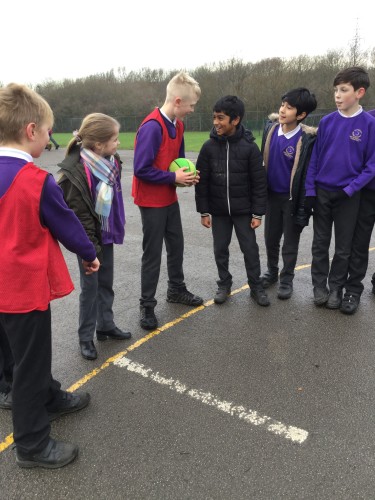 Road Safety Officers

Our Road Safety Officers are passionate about keeping children safe as they travel to and from school. They have endeavoured to make the road outside our school safer by encouraging parents to sign a parking promise.

Working Together
Our two road safety officers have teamed up with Chris from Wakefield Council to help keep our roads clear from unsafe parking. They monitor the situation twice a month and have asked for parental support by signing our Parking Promise.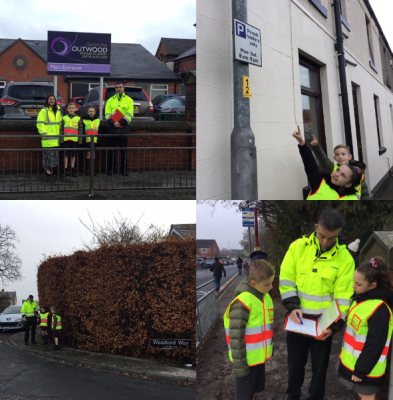 "Thank you to everybody who is parking safely and respectfully so those with permits can park closer to school"                                                                                                                            - Neve, Y5 Road Safety Officer


Parking Safely
Neve and Oliver, our Road Safety Officers, wanted to say thank you to all those parking safely and respectfully. They also wanted to remind everybody that parking on the single yellow lines is not permitted Mon-Fri 8am-6pm (apart from permit holders).